• BiomeBank's Good Manufacturing Practice (GMP) manufacturing facility officially opens in Adelaide's biomedical precinct.
• The facility has been purpose built to scale BiomeBank's breakthrough cultured microbiome therapies and meet global demand for BiomeBank's approved donor derived microbiome drug product.
• Development follows world first regulatory approval and $10 AUD Million capital raise in October last year.
• Research & Development laboratory also included in new build to continue innovation.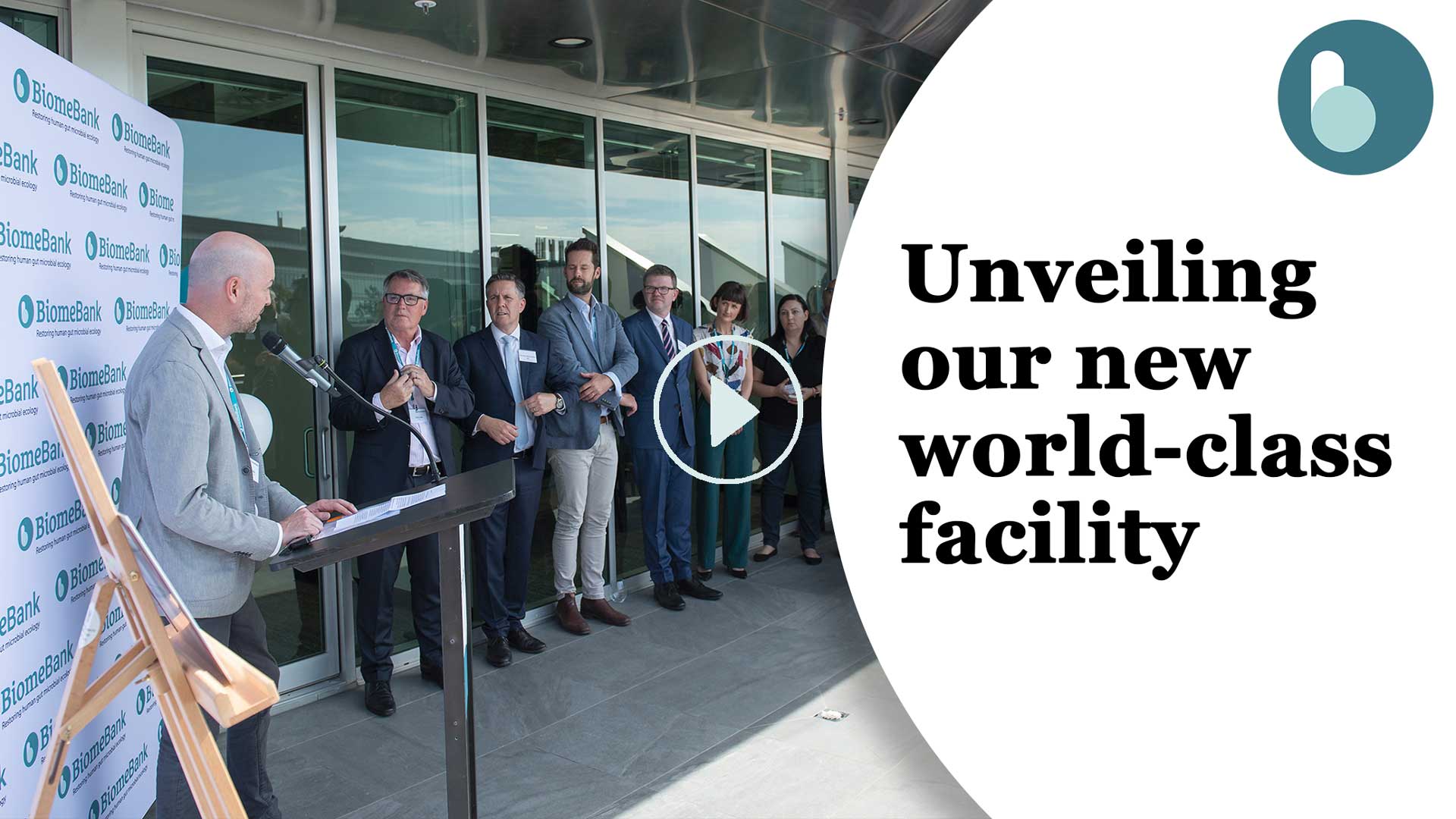 WATCH: Founders @SamCostello and @RobBryant explain why they are so excited by the facility and the fact it will allow BiomeBank to increase its production capacity, as well as scale up Consortiome™, our breakthrough cultured human microbiome. 
BiomeBank today announced the opening of its new GMP manufacturing facility designed to increase global supply of its approved donor derived microbiome-based therapy and further develop its second-generation therapies.
The new facility located in the heart of Adelaide's biomedical precinct has been designed to facilitate local collaboration and foster innovation within South Australia's growing biomedical sector. In addition to the GMP facility, BiomeBank has also added a new Research and Development laboratory and office space to support its growth.
BiomeBank announced multiple partnerships with leading research organisations. Including research collaborations with the Hudson Institute of Medical Research and RMIT university for microbiome drug discovery and the supply of the approved product to support of the Microbial Restoration in Inflammatory Bowel Disease (MIRO) study, the world's first pivotal trial demonstrating microbiome restoration in the treatment of Crohn's disease in collaboration with St Vincent's Hospital Melbourne and The Queen Elizabeth Hospital in Adelaide.
In addition to the new purpose-built facility, the company has grown its initial staff from 18 to 32 with further growth forecast for 2024.
BiomeBank was founded in 2018 by gastroenterologists Dr Sam Costello, Assoc Prof Rob Bryant and infectious diseases physician Dr Emily Tucker and microbiome scientist Dr Sam Forster in collaboration with The Hospital Research Foundation with the aim of commercialising the first donor derived microbiome therapy in the world and developing a cultured, scalable version of a healthy human gut microbiota.
BiomeBank is a clinical stage biotechnology company developing a pipeline of microbiome-based therapies to treat unmet medical need. BiomeBank's mission is to treat and prevent disease by restoring gut microbial ecology.
Backed by a world-leading team of translational microbiome experts, BiomeBank's platform uses a unique combination of machine learning and microbiology to identify bacterial strains which influence disease, leading to the discovery and development of new therapies.
Media contact:
Amy Boyce
M: +61 449 553 990
E: media@biomebank.com